Atterbury-Bakalar Air Museum Ernie Pyle WWII Museum Five Points Fire Museum Fort Wayne Firefighters Museum Freeman Army Airfield Museum Virgil "Gus" Grissom Memorial Hoosier Air Museum Indiana Military Museum Indianapolis Fire Museum McClain Military Museum Military Honor Park and Museum Museum of the Soldier National Military History Center/Automotive and Carriage Museum National Model Aviation Museum Rolls-Royce Heritage Center, Allison Branch Ropkey Armor Museum Wayne County Historical Museum

Indiana Museums - Aviation, Military, Automotive and Fire
Indiana is rich with a large collection of museums exhibiting aircraft, military vehicles, fire apparatus, artifacts and automobiles. In eastern Indiana the Wayne County Historical Society in Richmond contains about a dozen automobiles that were manufactured at one time in Richmond. Traveling west on I-70 and then north into Henry County, one can visit the Wilbur Wright Museum which is located at the house he was born in.
Up in the northeast portion of the state. Auburn is the museum capital of Indiana with three automobile museums, one aviation museum, and one military museum. The Auburn-Cord-Dusenberg Museum is probably the most well known of the five. Located 50 feet away and right behind it is the National Automobile and Truck Museum (Natmus), which has a large and excellent collection of vehicles. Located two miles away along I-69 is the co-located Kruse Automotive and Carriage Museum and the National Military History Center, one of four military museums in the state. A ten minute drive from any of the previously named Auburn museums takes one to the Hoosier Air Museum. Several of these museums can be visited in one trip if one spends a day in Auburn.
Traveling to the northwest to Shipshewana, IN which is the home of Hostetler's Hudson Auto Museum, which has the world's largest collection of Hudson automobiles on display. Moving to the west the Studebaker National Museum is located in South Bend in a brand new museum building. Traveling south down US-31 from South Bend one comes upon the Grissom Air Museum, which is Indiana's largest aviation museum. Traveling farther south on US-31 into Kokomo one finds the Kokomo Automobile Museum. Continuing down US-31 to Indianapolis there is the Indianapolis 500 Hall of Fame Museum, the Rolls-Royce Heritage Trust Center and the Indiana War Memorial Museum. South of Indianapolis is the Atterbury-Bakalar Air Museum in Columbus which expanded early in 2014.
Forty minutes northeast of Indianapolis in Anderson is the second of Indiana's military museums, the McClain Military Museum. The third military museum, outside of Crawfordsville at the Ropkey Armor Museum, is the original and longest running military museum in the state . The late Fred Ropkey spend his entire adult life collecting and restoring one of the finest private collections of military hardware in the world. Then on the western border of Indiana in Vincennes is the Indiana Military Museum, which has just recently moved into a new and larger location for display of not only military vehicles but aircraft. Then, as far south and west as one can go in the state is Indiana's "navy", which is the only WWII LST in operation, LST-325.
In summary Indiana has a large and diverse collection of museums for those interested in viewing historic cars, military items, aircraft and a ship. Photos of each museum are not comprehensive of what is in a museum but an overview of what one will see at the museum.
Before visiting any of the above mentioned museums one should check the appropriate websites. Several of the museum have winter hours or are closed during the winter.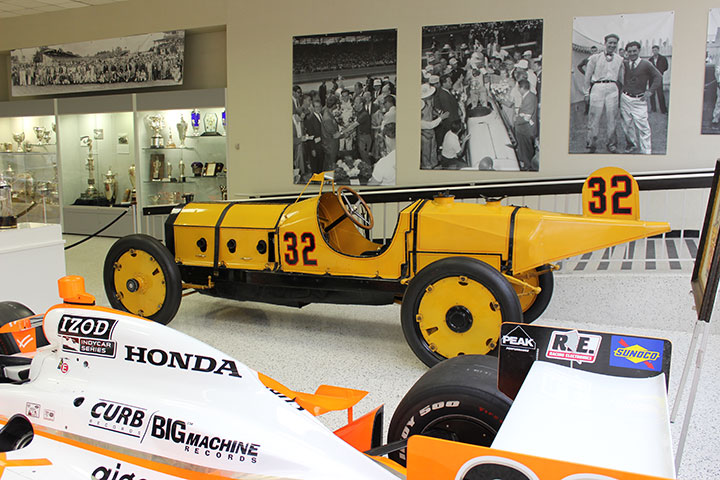 At the Indianapolis 500 Hall of Fame Museum one can see is car, the Marmon "Wasp" that won the very first Indy 500 in 1911. One of many cars that can be seen at several museums in the state of Indiana.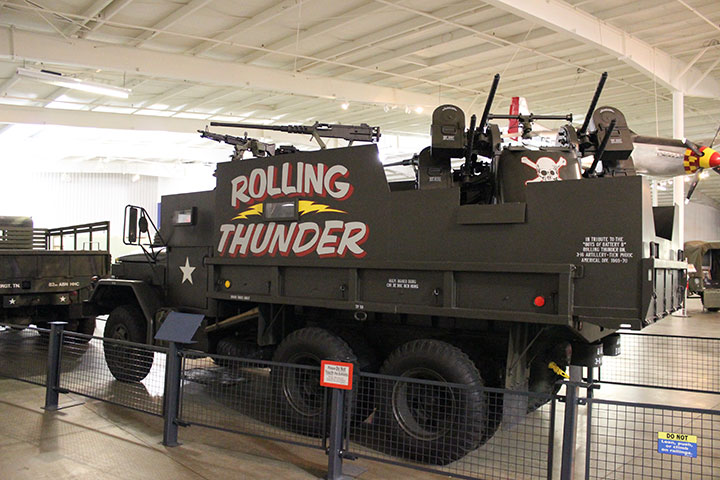 Located at the National Military History Center in Auburn, this is one of two replica Vietnam era gun trucks on display. Many more military vehicles and artifacts are on display at several museums in Indiana.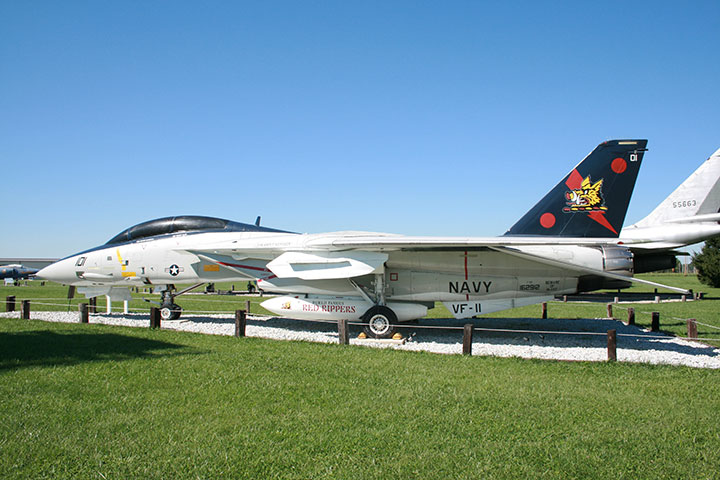 This F-14 Tomcat is one of the many outside displays at the Grissom Air Museum, which has the largest collection of aircraft in Indiana.