Alabama Arizona Arkansas British Columbia California Colorado Connecticut Europe Delaware Florida Georgia Illinois Indiana Iowa Kansas Kentucky Louisiana Maryland Michigan Mississippi Missouri Nebraska Nevada New Jersey New Mexico New York North Carolina Ohio Oklahoma Ontario Oregon Pennsylvania South Carolina Tennessee Texas Utah Virginia West Virginia Washington Wisconsin Wyoming

Illinois Gate Guards, Outside Museum Displays and Air Parks
Alton: Airport F-4 October 2009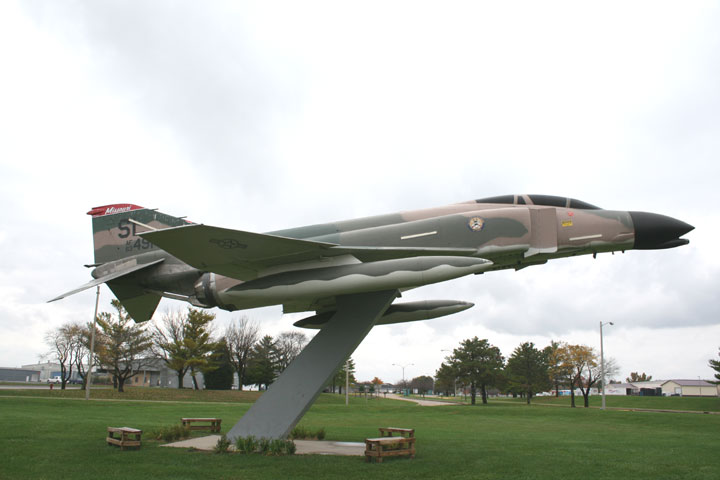 ---
Belleville: Scott Air Force Base
Scott Field Heritage Air Park C-9A, C-130, C-140, C-141B, KC-135E September 2009

All five aircraft currently on display can be see from this location, although only the vertical tail of the KC-135 can be seen behind the C-141 Starlifter. When the C-21A's are retired from active service one of those will be added also. This series of photos was taken early in the morning with mist and a very low ceiling. Behind the aircraft is a taxiway from where the aircraft were brought through the fence to the display site.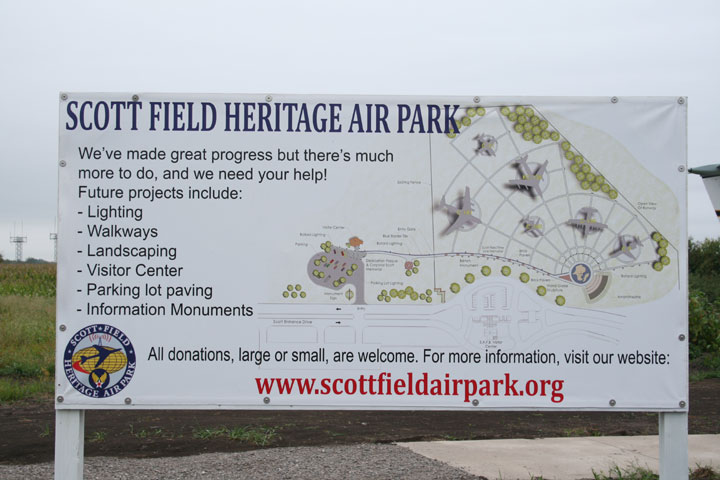 The Heritage Park is outside the Air Base so it open to the public at all times.


Scott Air Force Base Main Hangar CT-39, C-45H September 2009 - Photos of these two aircraft can be taken during the annual air show.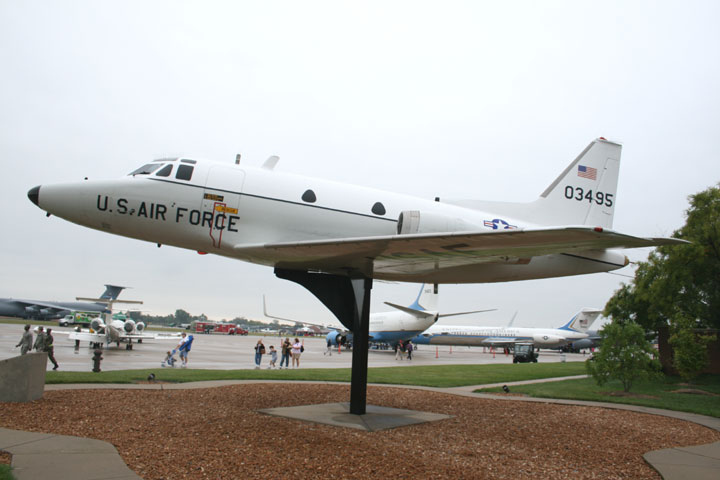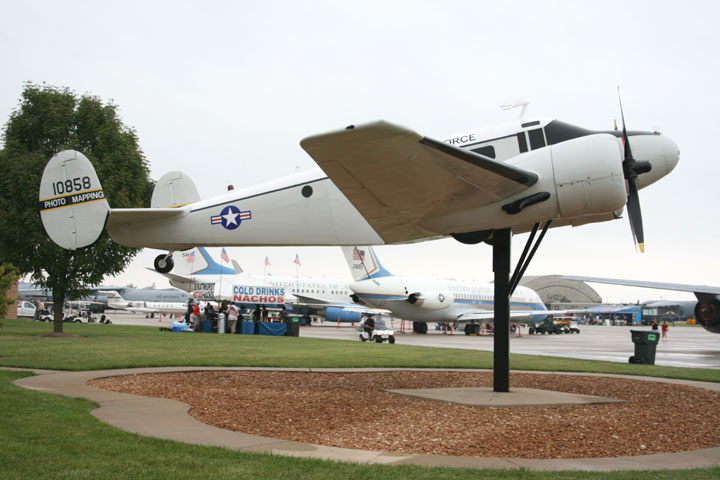 ---
Bloomington: Prairie Air Museum A-4, A-7, AH-1, F-4, F-14, F-100, T-33, T-38, UH-1 March 2010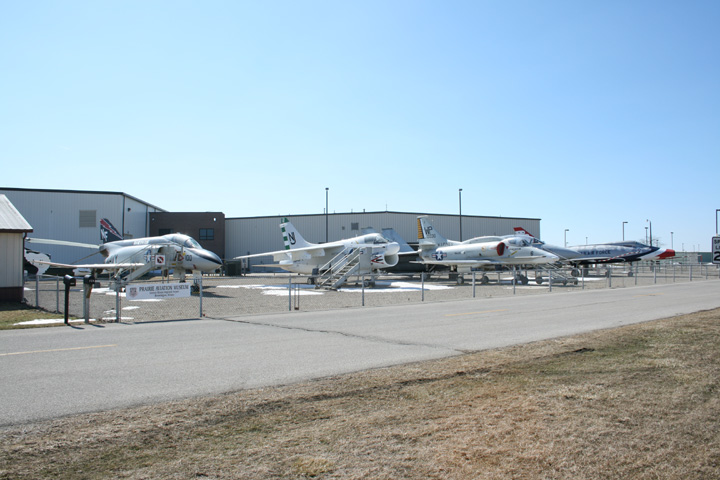 Five of the nine aircraft on display: F-4, A-7, A-4, F-14 and F-100.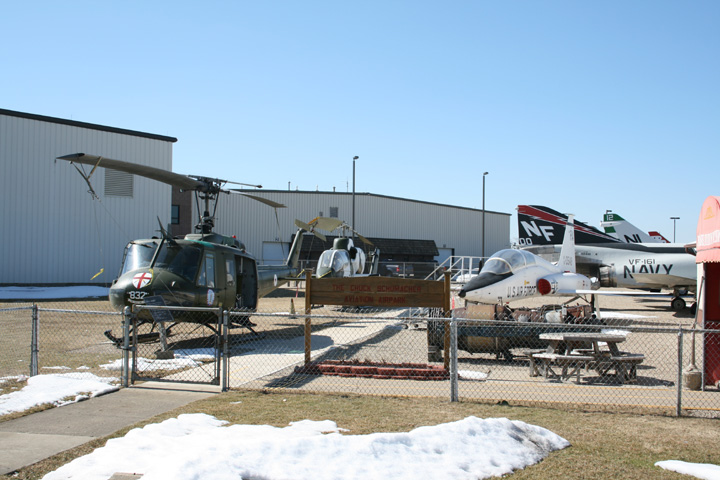 UH-1, AH-1 and T-38 just outside the back door.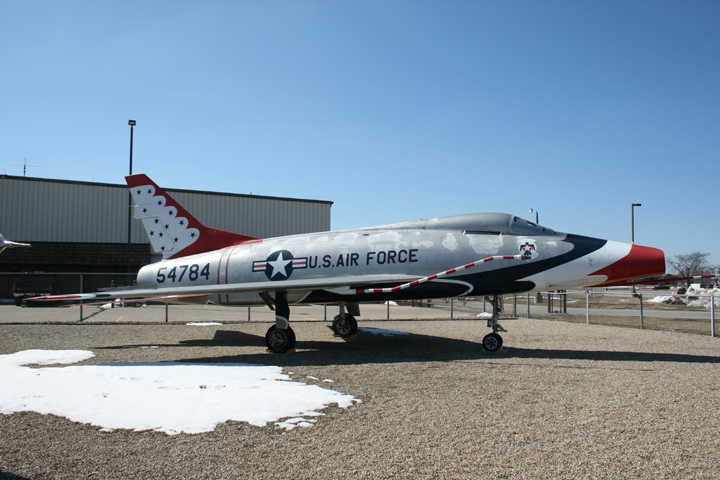 The newest addition to the collection. This F-100 was until last year on display at the Chanute Air Museum at Rantoul, IL.
---
Blue Island: Old Blue Island Park A-7 July 2009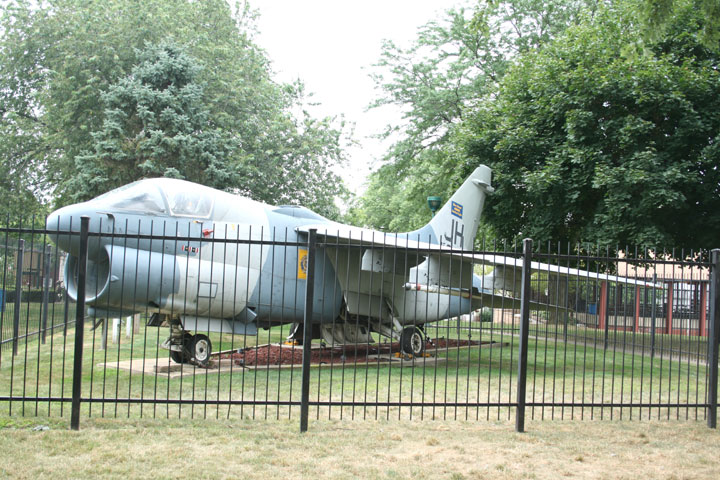 ---
Brookfield: City Park F-86 July 2009 This F-86 was dedicated in 1964.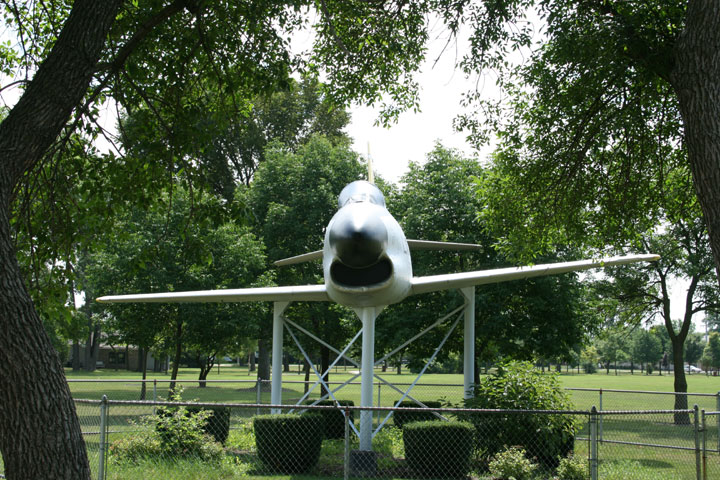 ---
Collinsville: American Legion Post 365 AH-1 September 2010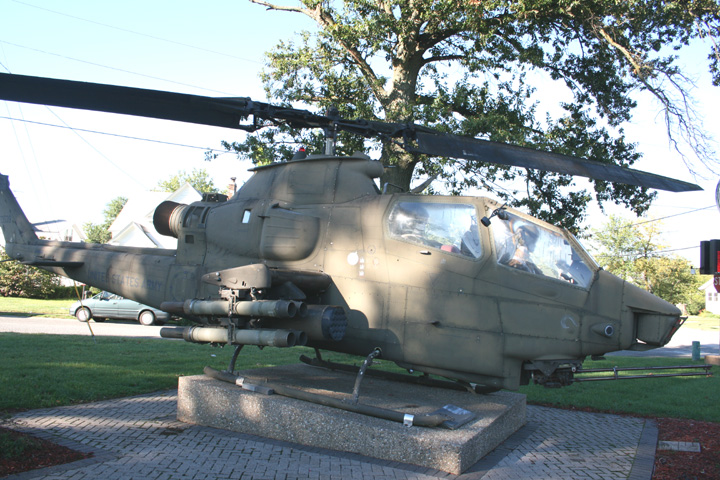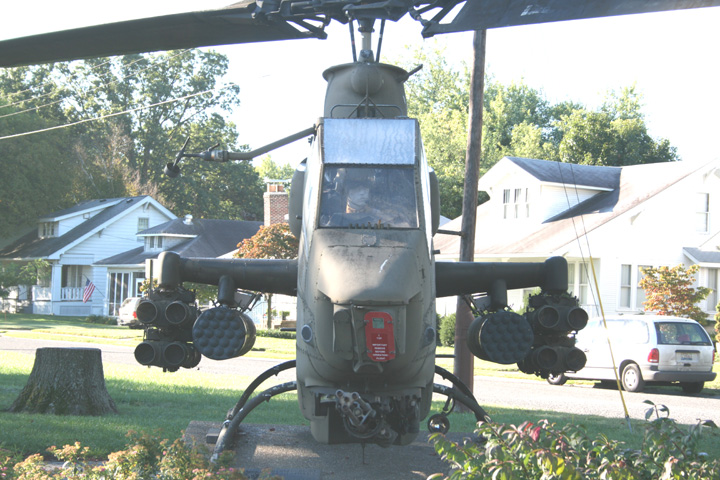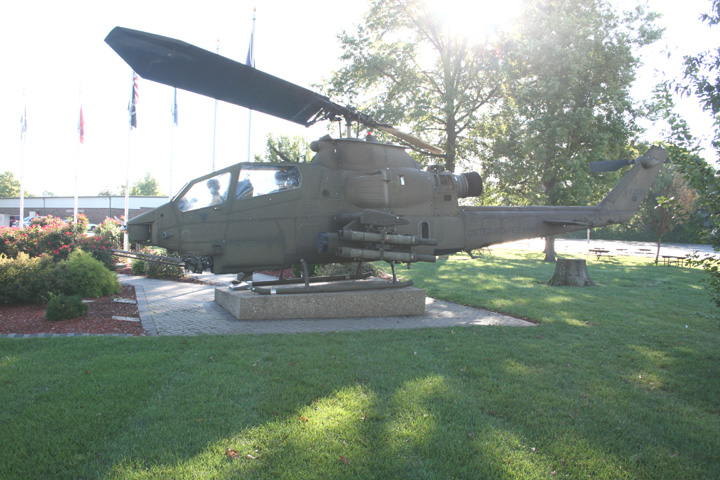 ---
Danville: VFW Post 726 Display in honor of Chanute AFB 1917-1993 A-7 March 2010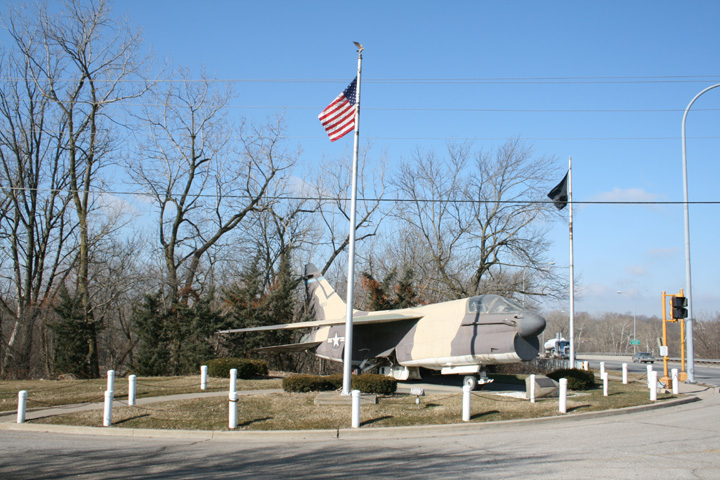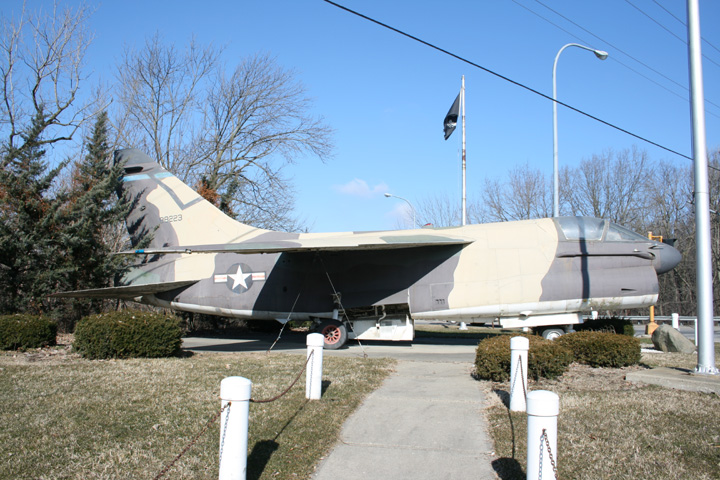 ---
Danville: Vermillion County Airport F-86 August 2007
---
Edwardsville: City Park A-7 May 2010 - This Corsair II was dedicated on June 30, 1991.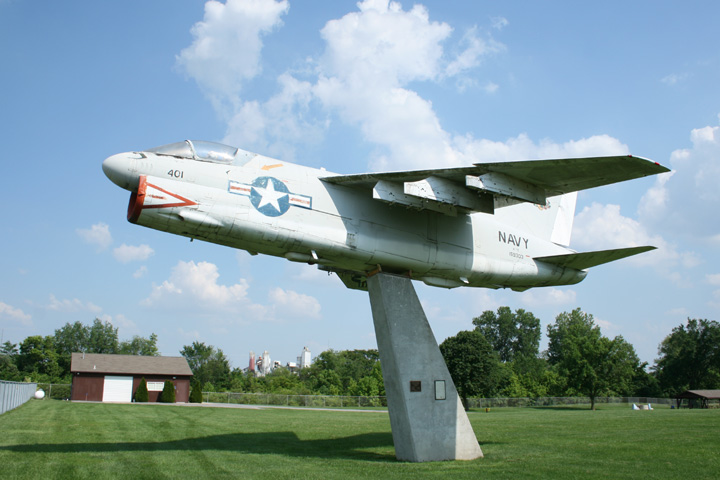 ---
Granite City: Wilson Park F-86 October 2009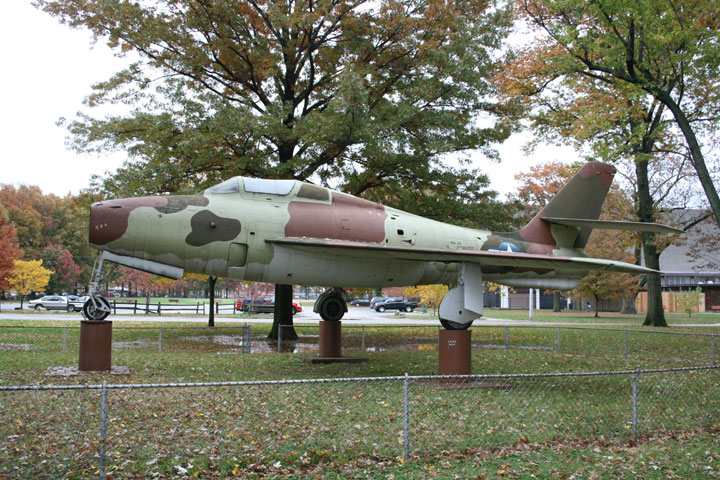 ---
Great Lakes Naval Station: South of Main Gate 100 Yards A-4 September 2009 - Photos taken from Sheridan Road.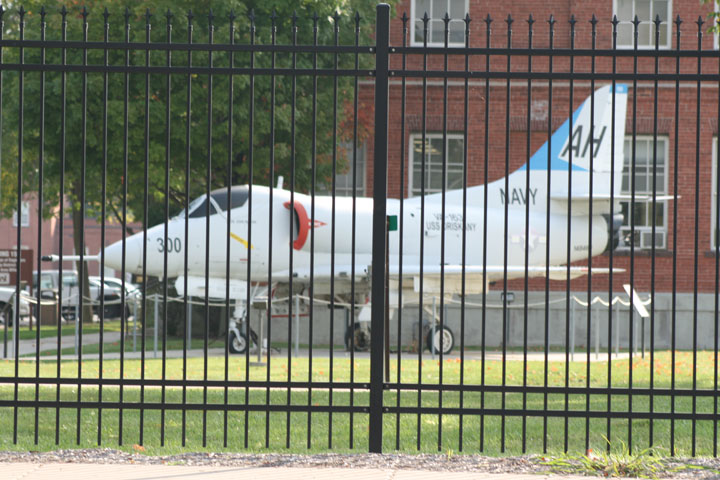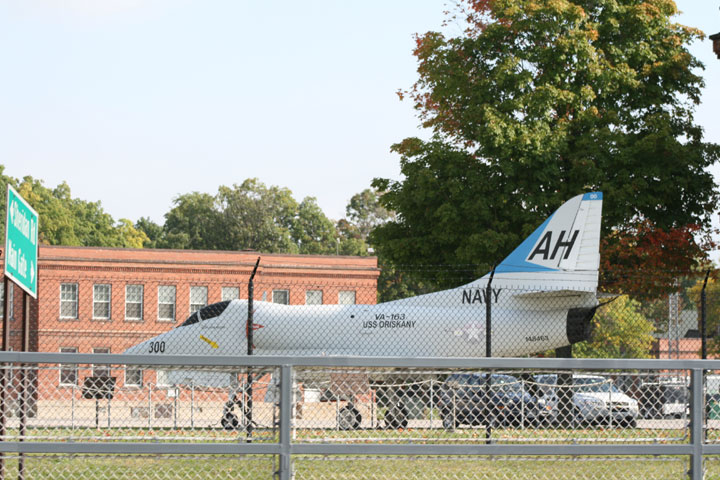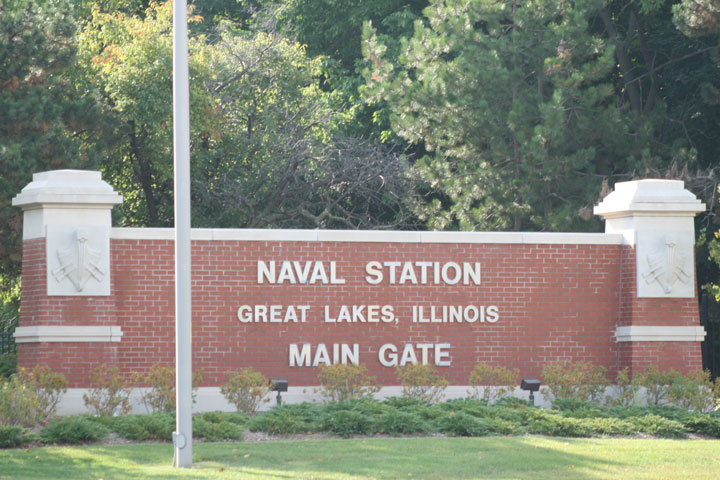 ---
Herrin: VFW 1567 AH-1 April 2011 - The sun was in the wrong position in the afternoon to get a really good photo.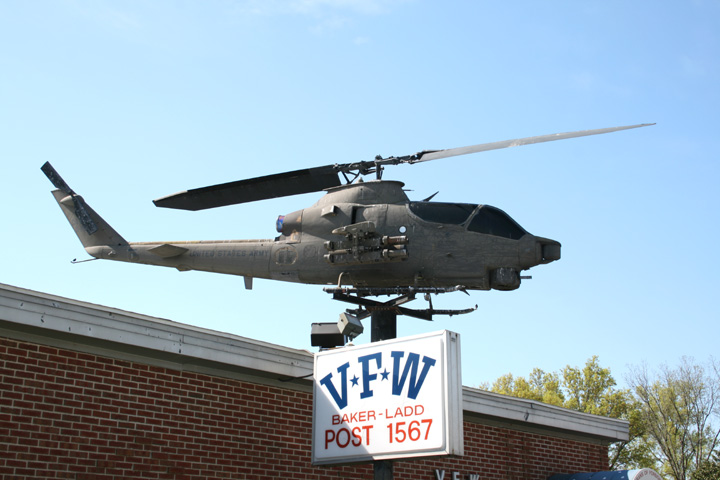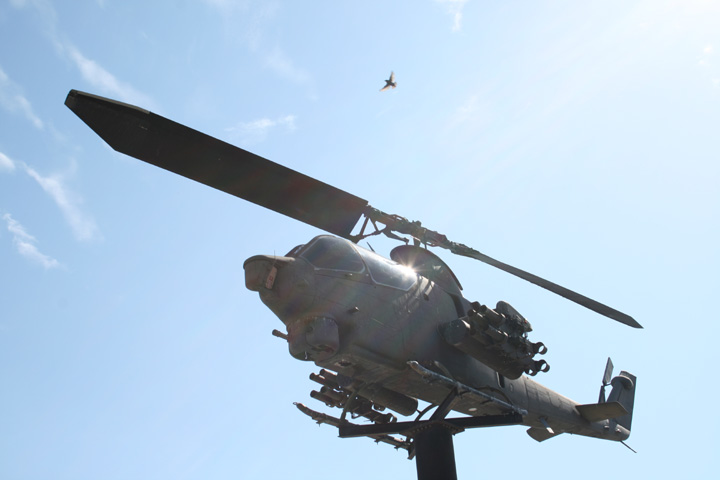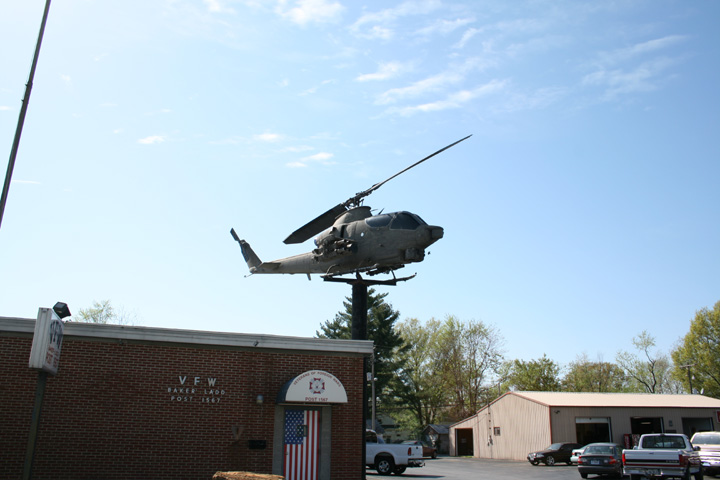 ---
Highland: VFW 5694 AH-1, T-33 May 2009
---
Kankakee: American Legion Veterans Memorial UH-1 September 2007
---
Lansing: Airport Veterans Memorial UH-1 July 2009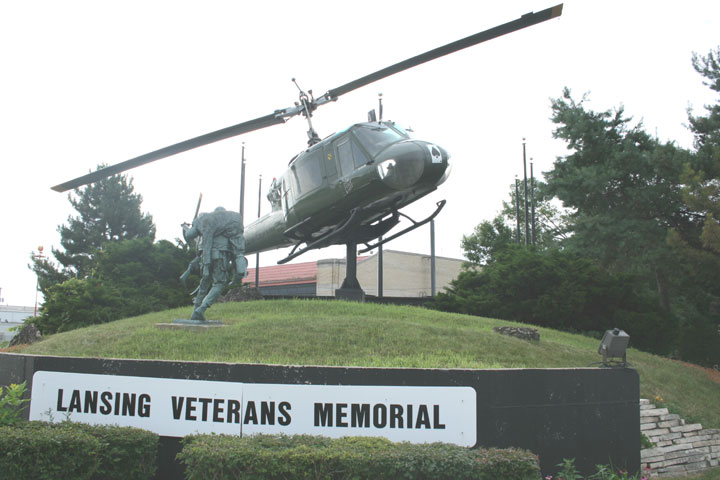 ---
Milford: Small Park JB-2 Buzz Bomb September 2007 The JB-2 (Jet Bomb 2) was the US copy of the German V-1 reversed engineered from parts sent to Wright Field in July of 1944 from England. 1200 were produced by Republic that subcontracted the airframe work to Willys-Overland with the pulse engine being built by Ford. This display itself has an interesting story as it was stolen, sold to the Commemorative Air Force, and then returned to Milford. Photos were taken at severe dusk (it was really getting dark) by setting camera to ISO 800. Here is more on the story of this. Historical Marker Data Base
---
Paris: American Legion Post 211 T-33 August 2011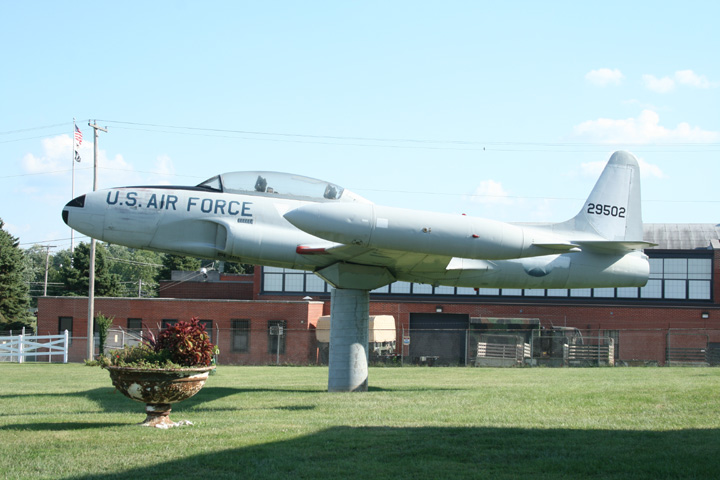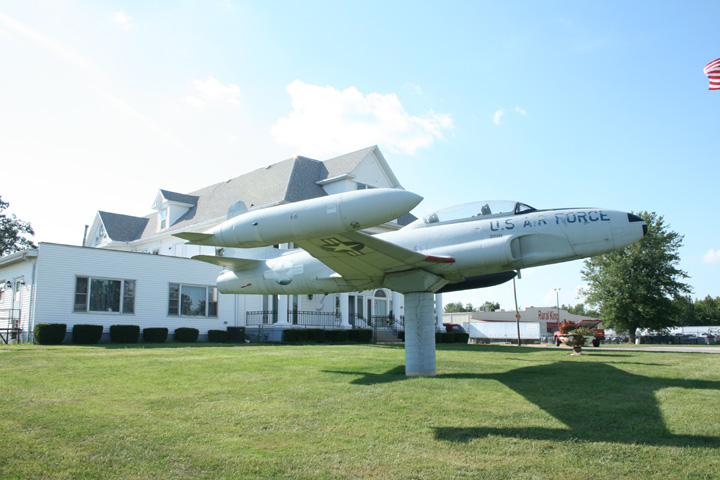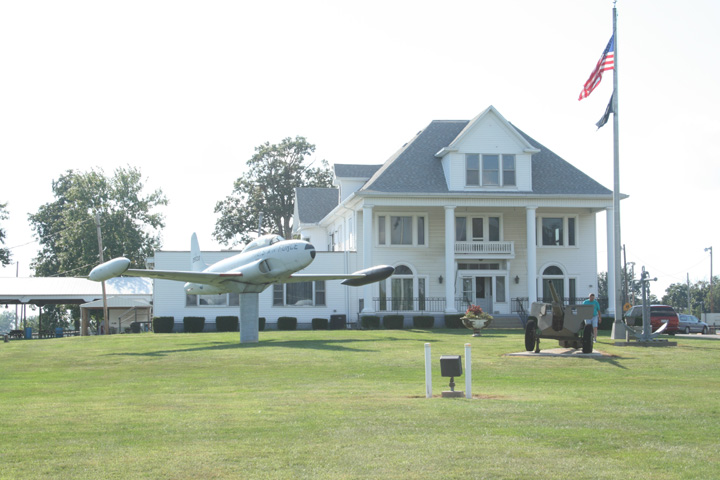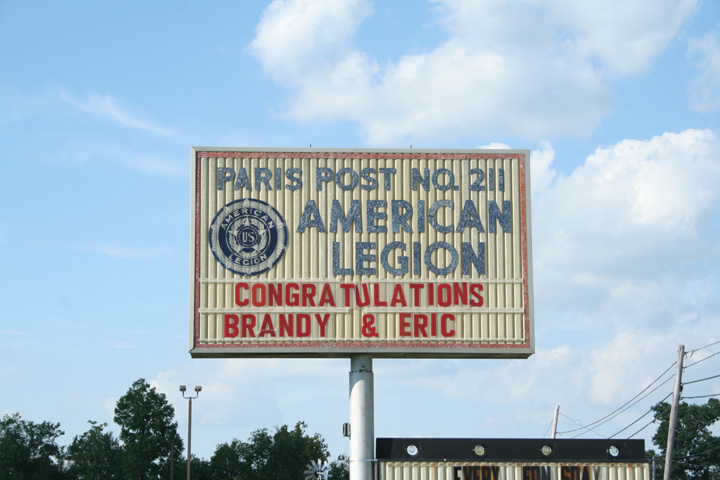 ---
Peoria: American Legion Post 979 F-4 May 2010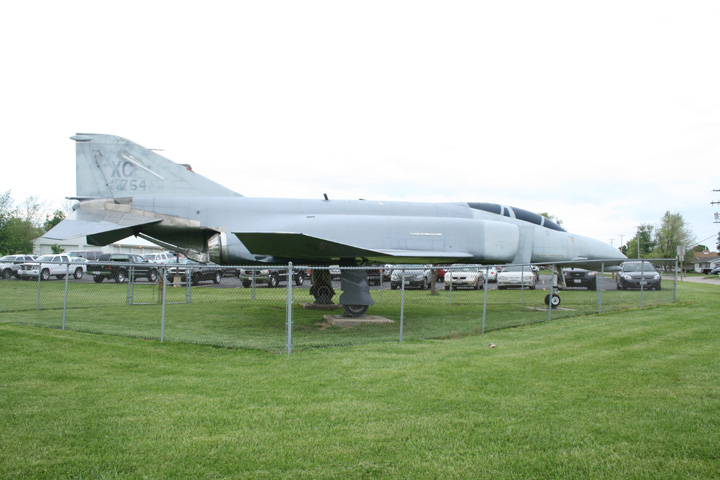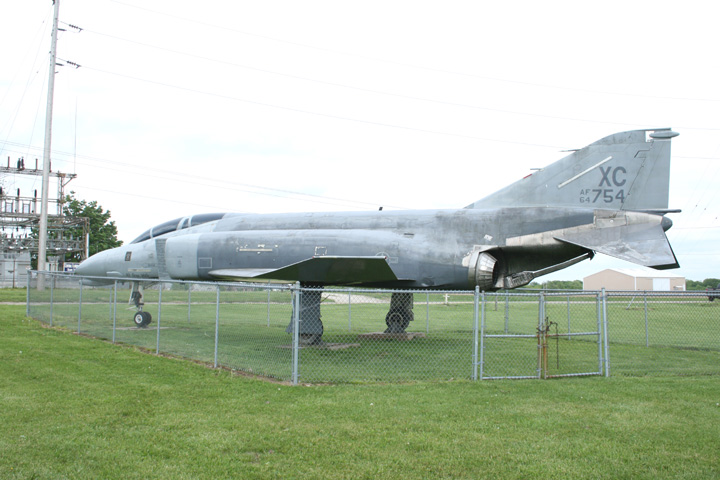 ---
Rantoul: Chanute Air Museum A-7, B-47, B-66, C-47, C-130, C-133, EC-121, F-84, F-101, (2)F-105. F-111, HU-16, T-39 March 2010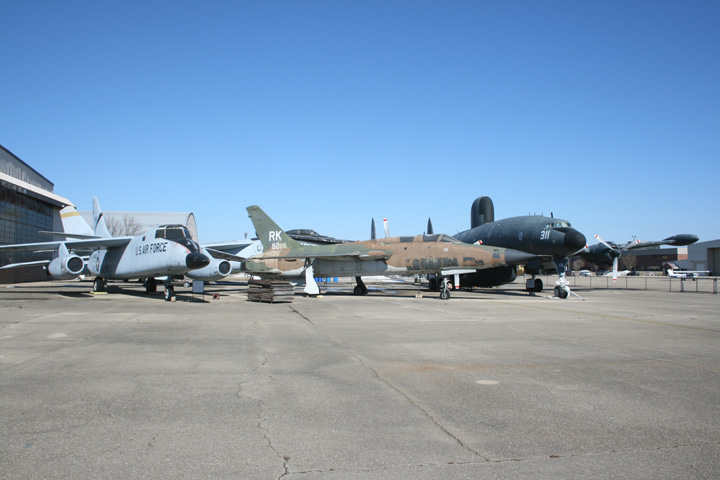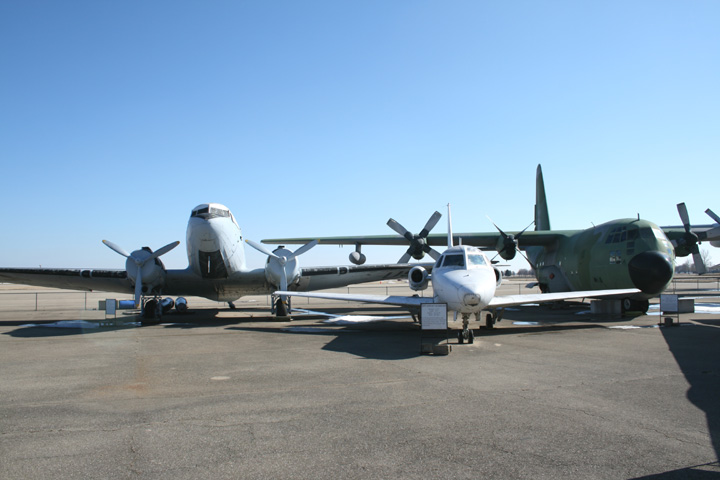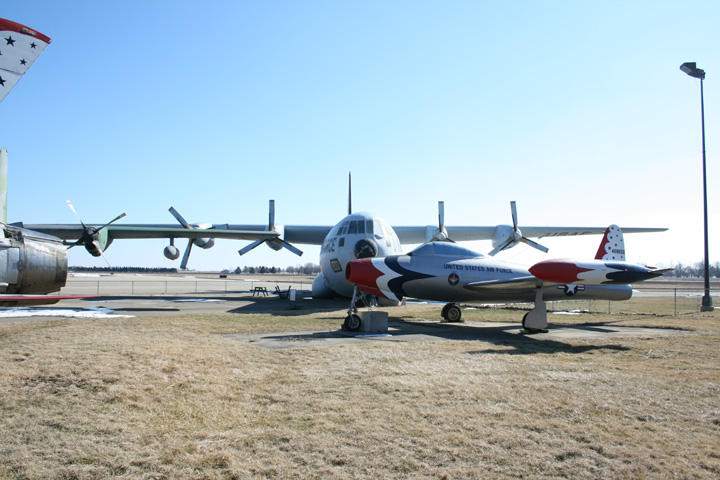 ---
Rantoul: Former Chanute AFB Airport Complex, C-97G - 52-0898 at Octave Chanute Aerospace Museum, Minuteman Missile at former front Gate to AFB August 2007

---
Round Lake: American Legion Post 1170 A-7 September 2011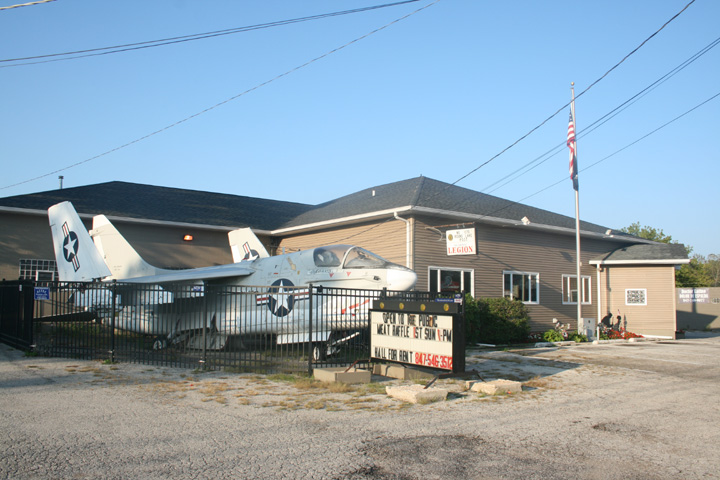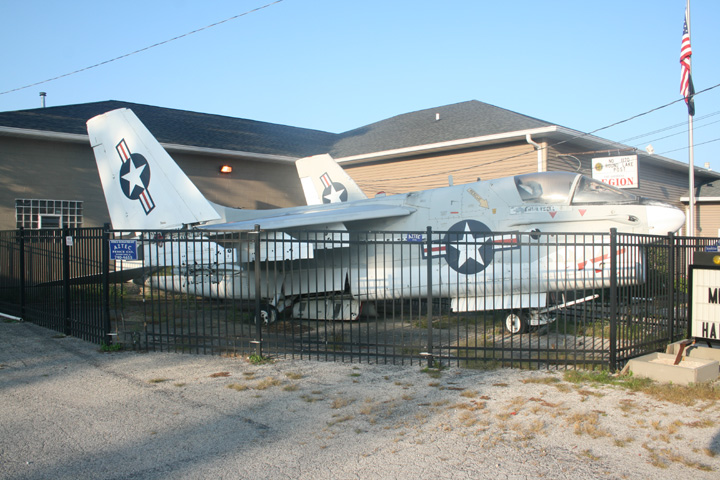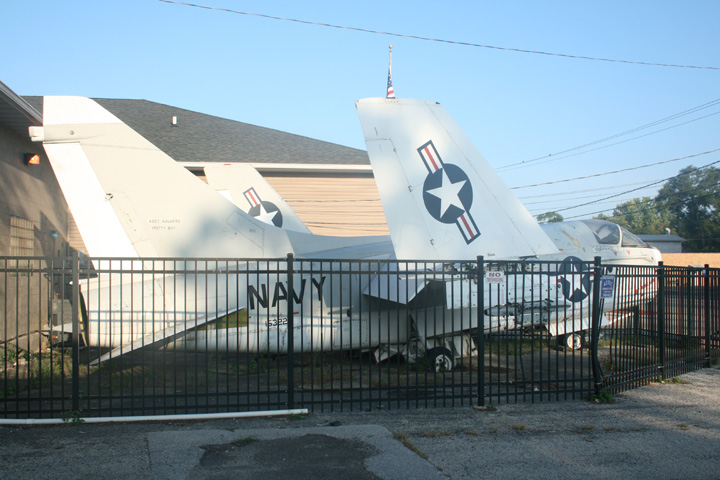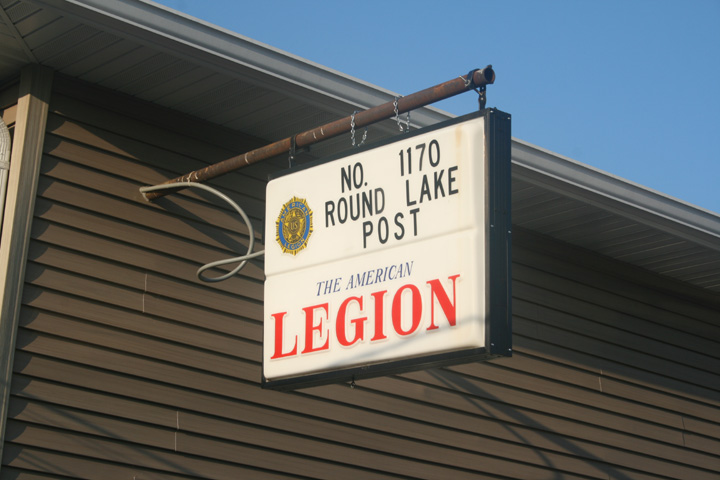 ---
South Pekin: Airport F-4 May 2010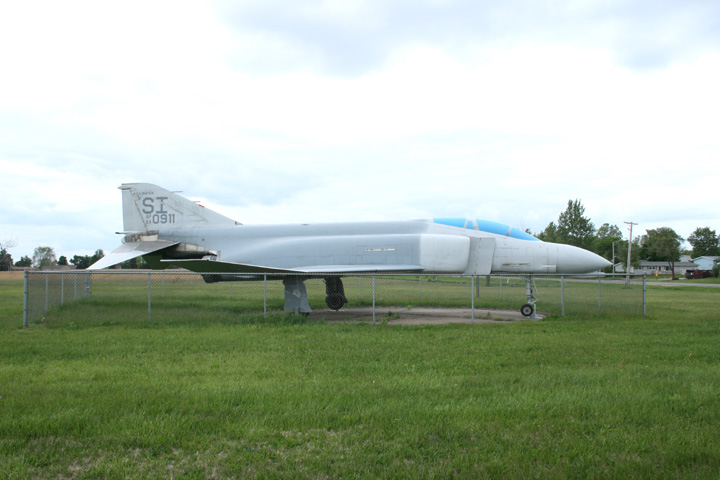 ---
Springfield: Illinois State Military Museum AH-1, UH-1 December 2013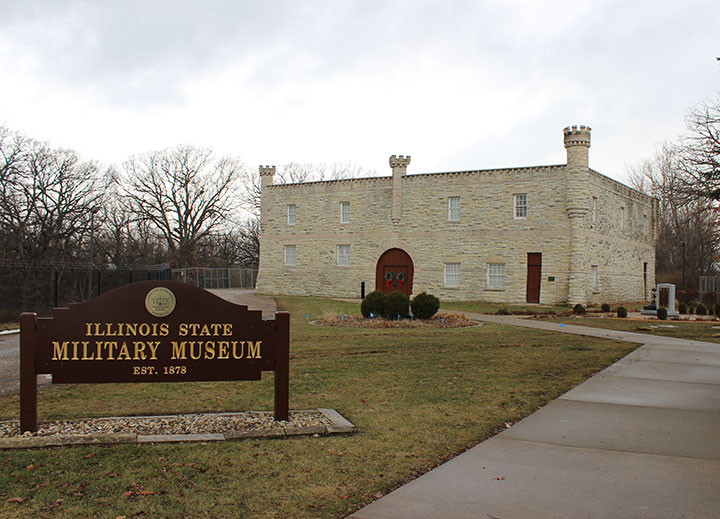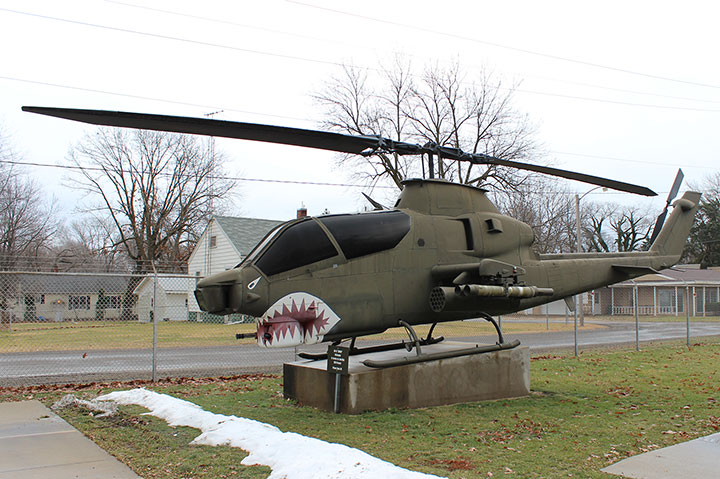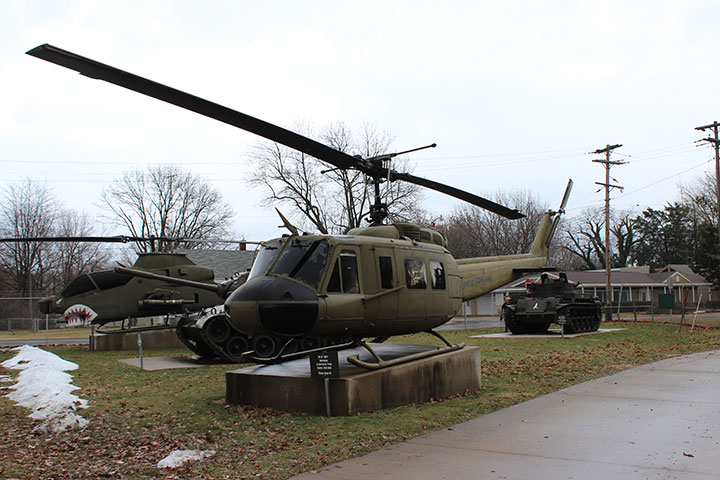 ---
Springfield: Illinois Army National Guard State HQ, Camp Lincoln F-84F, UH-1 December 2013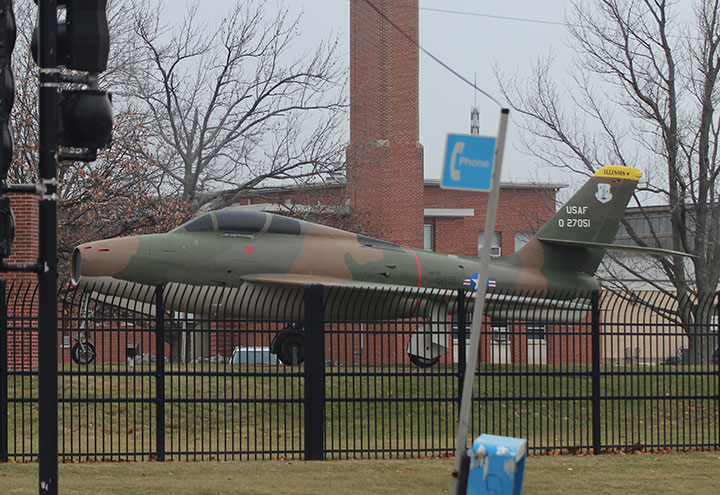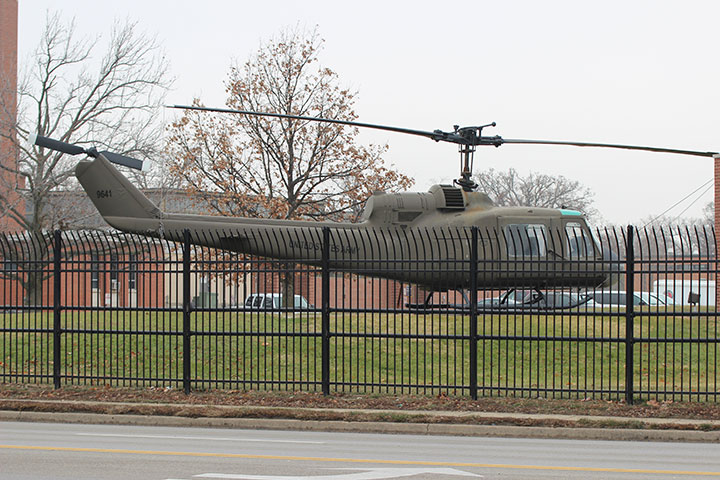 ---
Springfield: Illinois Air National Guard State HQ, Springfield Airport F-4, F-16, F-84F, F-86, T-33 December 2013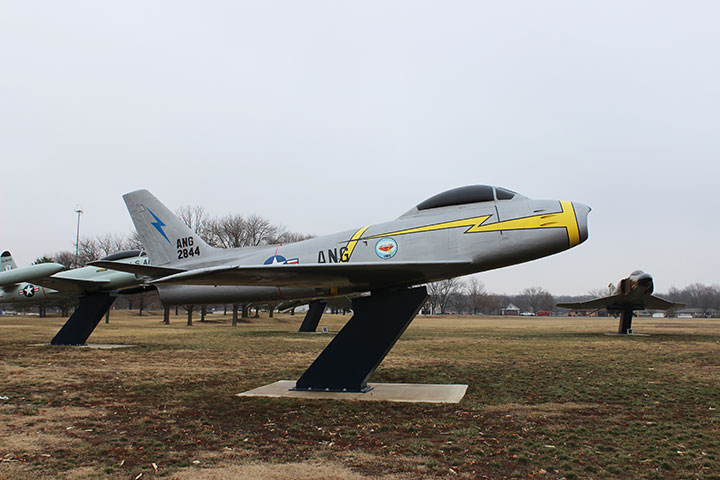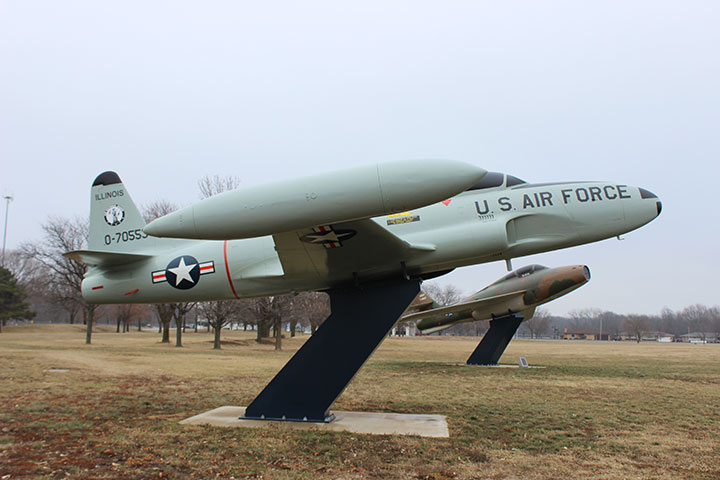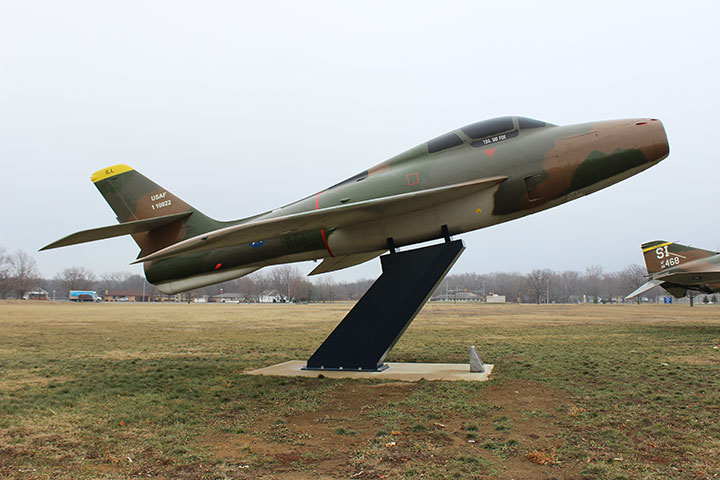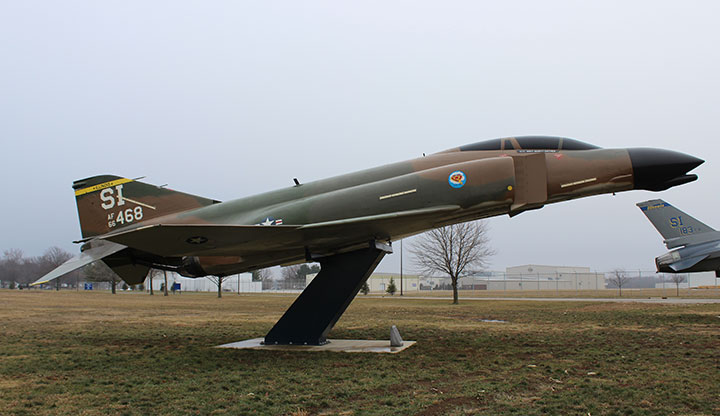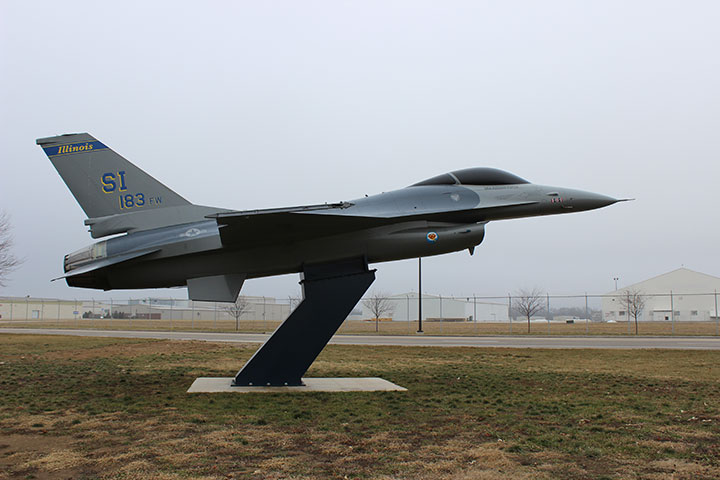 ---
Washington: Vietnam Veterans Memorial at the City Park AH-1 May 2010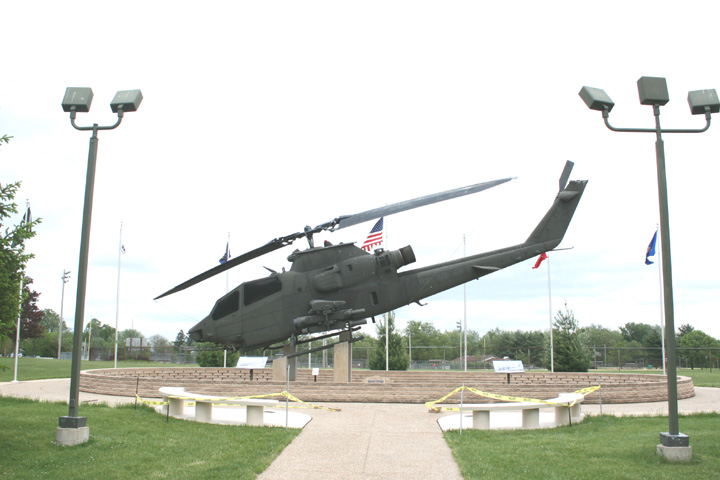 ---
Zion: Russell Military Museum A-7, AH-1, CH-53, CH-54, F-15, F-84, H-34, (2)HH-53, Mi-24, OH-6, (2)OV-1, T-33, T-38, TH-55,U-4, (6)UH-1 July 2009 Most of the aircraft in the outside display area are in very bad shape. It appears that there may be a restoration program to try and restore some of the aircraft to reasonable condition. Several helicopters were repainted and in satisfactory appearance. Most of the helicopters do not have rotor blades installed while fixed wing aircraft are missing engines and in some cases wings.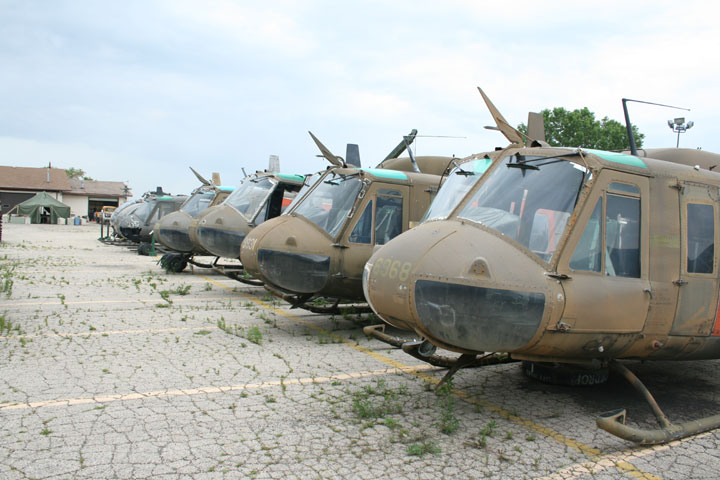 Alabama Arizona Arkansas British Columbia California Colorado Connecticut Europe Delaware Florida Georgia Illinois Indiana Iowa Kansas Kentucky Louisiana Maryland Michigan Mississippi Missouri Nebraska Nevada New Jersey New Mexico New York North Carolina Ohio Oklahoma Ontario Oregon Pennsylvania South Carolina Tennessee Texas Utah Virginia West Virginia Washington Wisconsin Wyoming